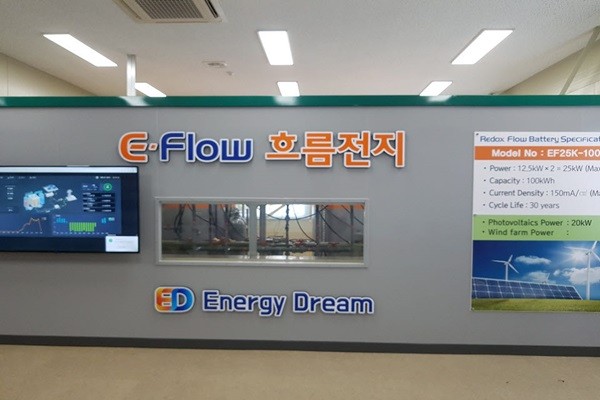 The company is planning to connect its flow battery that stores energy into aqueous electrolyte to solar power, wind power, and bio-gas generation and regeneration power.
Hi Group was able to develop vanadium redox flow battery by working with Chonnam National University, Hoseo University, Korea Electronics Technology Institute, Korea Institute of Industrial Technology, IBT, and ILDO F&C.
Hi Group (CEO Park Jae-dong), which specializes in ESS, announced on Thursday that it developed vanadium redox flow battery and is operating a testing center for the battery.
A South Korean small and medium-sized company developed vanadium redox flow battery that does not have any fire risk and can be used for a long period of time and built a testing center to commercialize the battery.
The company's flow battery ESS testing center, which is located within the Gwangju Industrial Complex, is linked to solar energy and it controls output and flow rate of flow battery ESS and minimizes internal pressure and pump power consumption and provides high efficiency.