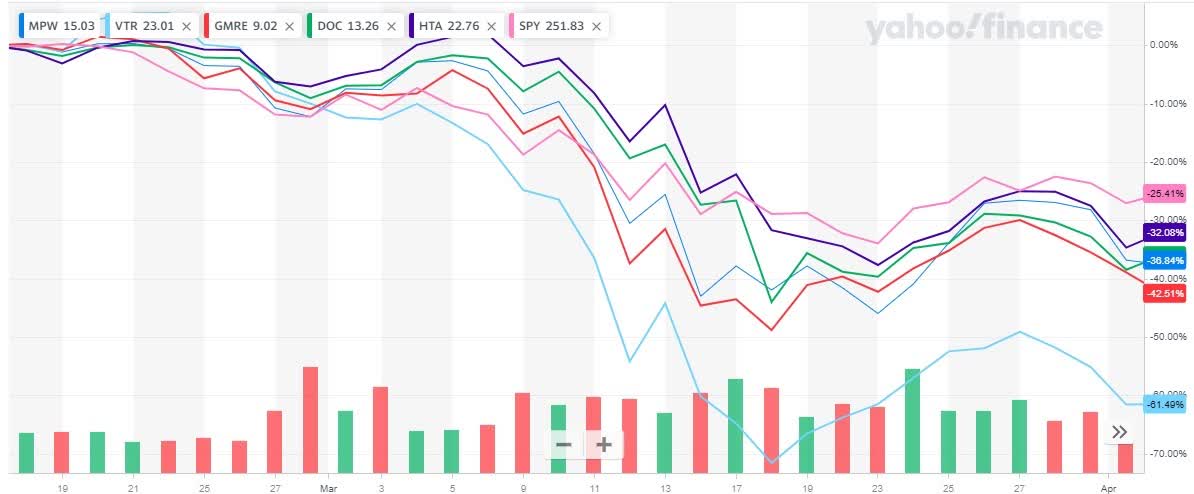 According to the company, their portfolio tenant rent coverage as a whole averages at 4.8x which is predictably less than the other MOB REITs but still miles above nursing home and SNF facilities and even a good deal above MPW's hospitals.
I'm encouraged that the company has been able to scoop up attractive deals in this uncertain period, rather than "chasing safety" and low cap rates like the other MOB REITs.
I have no doubt that some companies' shift (such as DOC) to owning higher quality and lower cap rate properties will have their long-term benefits, but the anemic growth and lack of true safety (not immune to market crashes) means that they aren't justified being 3-4 turns higher in P/AFFO valuation than a stellar company like MPW that has absolutely trounced them in total return.
Table created by author, populated with data from company financials and calculations GMRE, DOC and Healthcare Trust of America (HTA) are MOB REITs, but I also included MPW due to it being the benchmark investment that I am comparing everything to, and I included Ventas because of its focus in the last article.
More importantly, I tried to extrapolate how some of these experiences may or may not affect the investment world, specifically with regard to some of the more popular REITs out there, such as Medical Properties Trust (MPW), Ventas (VTR), Global Medical REIT (GMRE), Physician's Realty Trust (DOC) and others.